KNX RF/TP Coupler 673.1 secure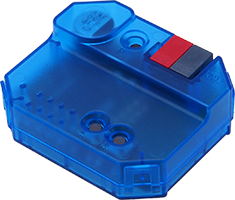 The KNX RF/TP Coupler 673.1 secure is a compact KNX radio coupler. It connects KNX RF devices of a radio line with the KNX Bus Twisted Pair.
The device has an extended filter table for main group 0 … 31. The coupler supports long frames and is compatible with the ETS® software ETS 5 or higher.
The buttons on the front panel allow disabling the telegram filter for testing purposes. The LEDs indicate operating conditions as well as communication errors on the KNX bus.
The power is supplied via the KNX bus.
The device supports KNX Data Security. The functionality of Security Proxy and Segment Coupler is only supported with the ETS 6 database.
Art.-Nr. 5474
EAN 42 6026277 474 3
Technical data
Mechanical data
Housing: transparent plastic (ABS)
Matches in a standard flush-mounted box
Dimensions: 48 x 40 x 18 mm
Weight: approx. 20 g
Controls and indicators
2 buttons and 3 LEDs (multicolor)
KNX programming button with LED (red)
KNX
Medium RF/TP
KNX Security (AES-128) (incl. Security Proxy)
KNX Segment Coupler
Extended filter table
for main group 0 … 31
Buffer: 2 x 20 telegrams
KNX Long Frames
Power Supply
Connectors
Connector for KNX Bus (red / black)
Internal antenna
RF Interface
KNX RF, ISM Band 868,3 MHz, FSK
Output power: 6 dBm