Cost effective
and efficient
The connection to the KNX bus is increasingly becoming a crucial feature for building automation devices.
A full integration of the application of the device with the KNX stack – ie the integrated development – is certainly technically the best solution.
However, this requires relatively high investment costs, a large development effort and is hardly economically in smaller quantities.
KNX
BAOS Module

An inexpensive way to connect devices with KNX are our KNX BAOS modules (BAOS stands for "Bus Access and Object Server"). They includes not only a KNX transceiver microcontroller with a certified KNX stack. In addition, the modules offer – depending on model – a galvanic isolation to the bus. Communication with the module is operated via the serial protocol FT1.2. This protocol was introduced in KNX already with the PEI (Physical External Interface) of the BCU2 (Bus Coupling Unit). It allows the sending and receiving of KNX telegrams according to the EMI (External Message Interface) format.
The modules provide the interface to the KNX both on telegram level and at the data point level (KNX Application Layer). Our BAOS modules are identical to the KNX Serial BAOS 870 in function, but because of their compact size easily be integrated into a device (eg sensor or actuator).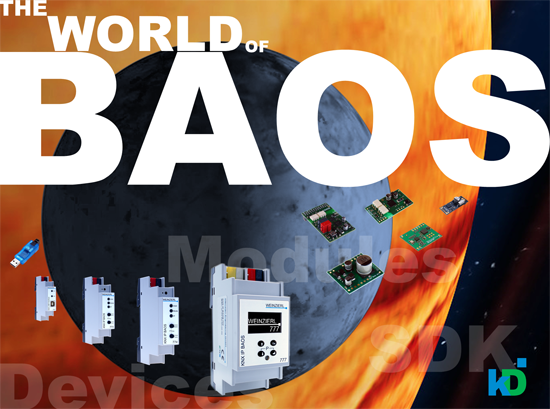 For a first overview, please download our BAOS flyer "The world of BAOS".