Weinzierl at the ISH 2017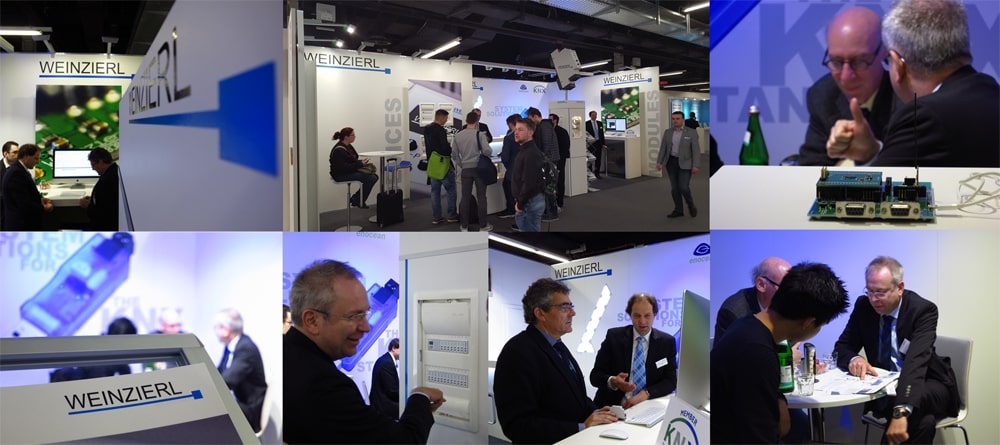 The ISH 2017 (March 14 – March 18, 2017 in Hall 10.3 A34) in Frankfurt is the largest international trade show for the network of water and energy. More than 2,450 exhibitors presented their innovations in the field of plumbing and heating technology. ISH is also an important trade fair for Weinzierl Engineering, and the system specialist for KNX from the Upper Bavarian town of Burgkirchen was also present this year with its own stand.
There was always something to do for the Weinzierl trade fair team at ISH 2017. The great interest in KNX prove the trend towards standardized networking in building technology. Weinzierl presented its comprehensive range of products and solutions for KNX integration as well as for connection to EnOcean. Amongst others, these new products have been shown:
1. KNX USB Interface 312 – The successful KNX USB interface with only 18mm width in a new housing; It also offers the support of KNX long frames for a faster ETS download.
2. KNX USB Interface Stick 332 – almost 50% smaller than its predecessor, the USB Interface Stick now also supports KNX long frames. By integrating the BAOS protocol V2, the stick is now also part of Weinzierl's BAOS architecture and is suitable for the integration of non-KNX devices into the KNX system – if necessary also with an individual ETS product database.
3. KNX ENO 636 secure – the new top model of EnOcean gateways with over 100 supported EEPs (EnOcean Equipment Profiles) and the support of encrypted radio communication.
4. KNX LineCoupler 650 – Compact KNX TP line coupler with a width of only 18mm. KNX Bus connectors on both sides. Keys and LEDs for diagnostic functions.
5. KNX IP Interface 731 – Compact 18mm KNX IP interface, optimized position of the LAN connector. Power supply via the KNX bus.
6. KNX IP Router 751 – Compact 18mm KNX IP router with extended filter table (8k), optimized position of the LAN connector. Power supply via the KNX bus.
7. KNX IP LineMaster 762 – The KNX IP LineMaster in the new and more compact housing (108mm) combines an efficient KNX power supply with 640 mA output current and bus choke with a KNX IP router, status and settings via OLED display.
8. KNX IP BAOS 773/774 – Compact 18mm KNX IP BAOS device, KNX IP interface, BAOS V2 (with 250/1000 data points) allows easy connection of IP devices to KNX, optimized position of the LAN connection. Power supply via the KNX bus.
9. KNX Modbus RTU 886 – Universal gateway between Modbus RTU and KNX TP. Compact design with only 18mm.
10. The new KNX IO series shows what is possible in only one division unit: binary inputs, switching outputs, blind outputs and even combiner units.
We are pleased to have received the positive feedback and thank all visitors for the interesting trade fair talks. Next year we will meet at Light & Building 2018 – we look forward to your visit.