KNX USB Interface 312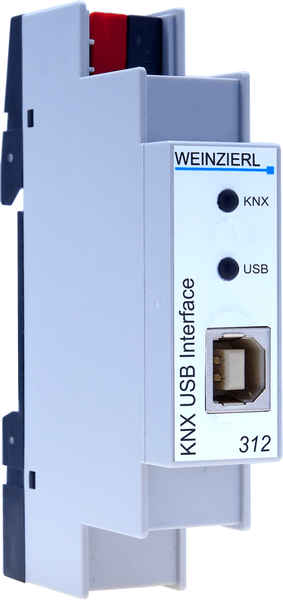 The KNX USB Interface 312 is a data interface between a PC or laptop and the KNX installation bus. It can be used as a programming interface for ETS® Software Version 3 (or higher) and supports KNX long frames. Long telegrams enable a faster download to devices that can receive these telegrams.
The LEDs on the device indicate the operating status and communication errors on the bus. The USB connector is galvanic isolated from the KNX bus.
This USB interface can be used to program KNX Secure devices with the ETS.

Notes for developers
The KNX USB communication is based on HID and cEMI telegram coding according to the KNX specification. To integrate the KNX USB Interface in applications running on Windows or Linux the cross-platform SDK kDrive is available from Weinzierl.
In addition to the telegram interface via cEMI, the KNX USB Interface 312 includes a complete KNX Stack with communication objects and BAOS protocol V2. Thus, the device offers the possibility to extend devices with USB connection to full KNX devices, which can even be programmed by ETS. For more information about this solution and available SDKs please contact us.
Technical data
Mechanical Data
Housing: plastic
DIN rail mounted device, width: 1 TE
Indicators
LED (multicolor) for USB
LED (multicolor) for KNX
KNX
Medium TP
Long Frame
Object Server: BAOS V2
Device model: System B
Power supply
Connectors
KNX connector
USB connector type B
Compatibility
ETS (Engineering Tool Software) ETS3 or later
Falcon Driver (KNX Association)