KNX IP LineMaster 762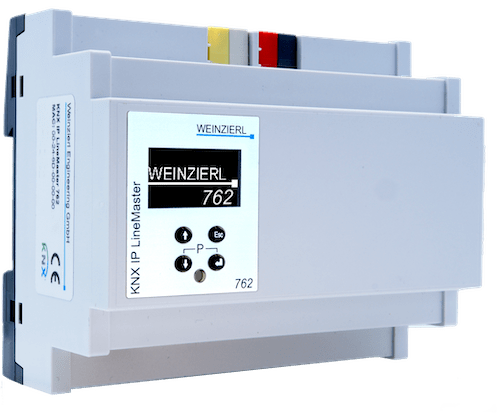 The KNX IP LineMaster 762 combines the central functions of a KNX bus line in a compact device (6TE): a 640 mA bus power supply with choke, IP router and IP interface. In addition to the bus voltage, the power supply also has an auxiliary voltage output. The IP router in the device allows the forwarding of telegrams between different lines via a LAN (IP) as a fast backbone. Via the interface function the KNX line can be addressed directly from a PC (eg with ETS version 4.2 or higher).
The device operates according to the KNXnet/IP specification using core, device management, tunneling and routing. The configuration is done with the ETS (version 4.2 or higher). An easy-to-read OLED display on the front allows the display of the operating parameters locally on the device.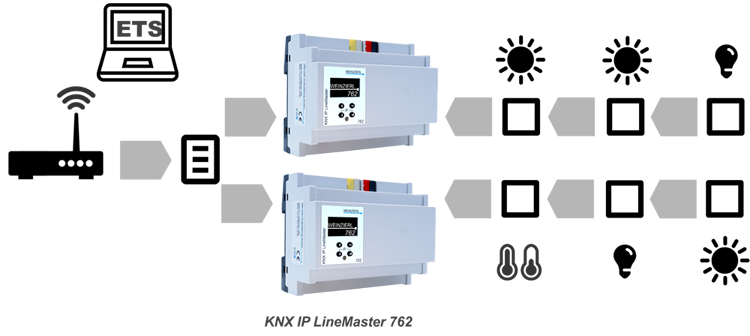 Power supply
with choke
The power supply with high efficiency of the KNX IP LineMaster 762 provides a 29V bus voltage for the KNX system and an additional output with auxiliary voltage for supplying other devices. Special operating conditions such as short circuit, overvoltage, overload or overtemperature are logged and can be read off the display. The current current consumption is also displayed. A reset of the connected bus nodes is possible via the keypad.
KNX IP Router
The KNX IP LineMaster 762 integrated KNX IP router allows the transmission of telegrams to other lines via the LAN (IP) as a fast backbone (KNXnet/IP routing). The KNX IP LineMaster 762 thus also assumes the function of a KNX line coupler.
KNX IP Interface
The KNX IP LineMaster 762 can be used as an interface for bus access via IP. The KNX system can be configured and monitored from any PC in the LAN (KNXnet/IP tunnelling).
Technical data
 Mechanical data
Housing: plastic
DIN rail mounted device, width: 6 modules (108 mm)
Weigth: approx 300 g
User Interface
Four keys for on device settings
OLED display
KNX programming LED
Ethernet
100BaseT (100Mbit/s)

6 KNXnet/IP Tunneling connections
KNX
Medium IP/TP
Filter table 8 kByte (64k group addresses)
compatible with ETS 4.2 (or higher)
Long Frame
Connectors
Plug for external power supply 230 V AC
Connector for KNX TP (red/black)
Connector for auxiliary power output (yellow/white)
LAN RJ-45 socket