Busmonitor
Net 'n Node
Net'n Node is a powerful bus monitor and analyzer for the development of KNX devices for all KNX media. For more than 10 years Net'n Node is used by many KNX developers. Since the release of Net'n Node 5 the basic version is available for free.
Net'n Node –
the developer's view to KNX


Version 5 has been completely redesigned from scratch and now supports the KNX BAOS protocol. Net'n Node 5 can communicate directly with the serial KNX BAOS Modules as well as with the KNX IP BAOS Devices from Weinzierl – and with its latest update it also communicates with KNX BAOS USB Devices. Net'n Node 5 is based on the SDK kdrive by Weinzierl and supports bus access via Serial, USB and IP.
Sending and receiving telegrams over KNX
Analysis of a KNX installation
Analysis and control of single devices
Reading out communcation objects
Access to KNX over Serial, USB and IP interfaces
NEW: Support of KNX BAOS USB
NEW: Export of KNX telegrams as .txt or .csv
NEW: extended help functions
Sending and
receiving telegrams
Net'n Node is able to track all telegrams exchanged over KNX. The telegrams can be filtered according to their layer and further information such as the service code or time stamp can be displayed.


For the sending of telegrams many predefined templates are available. An individual input is possible as well. The figure shows dialogs for sending telegrams with KNX data point types.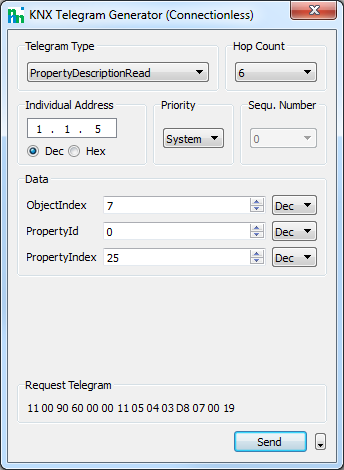 The content of a group object can be read via the tool "read object value". Every meaningful interpretation of the content is listed.
Telegram
filters
It is possible to filter telegrams based on the following criteria:
EMI Service code
Source Address
Individual Destination Address
Group Destination Address
Application Layer Service (APCI)
Transport Layer Service (TPDU)
Network Layer Parameter (Route Count)
Filters can be configured to hide specific telegrams, or mark them with a specified color. Filter configurations can be saved to file for later use.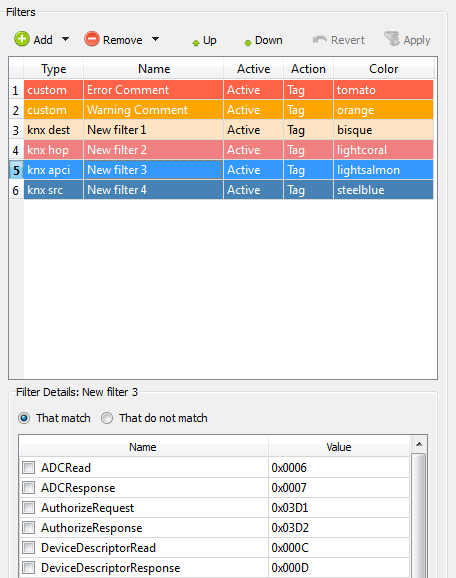 Analysis and
control of KNX devices
Net'n Node provides a large number of tools for the analysis and control of single devices. These functions are:
Access protection
Switching of LED
Reset device
Read state
Read A/D-Converter
Edit memory
Edit properties
Manipulate physical address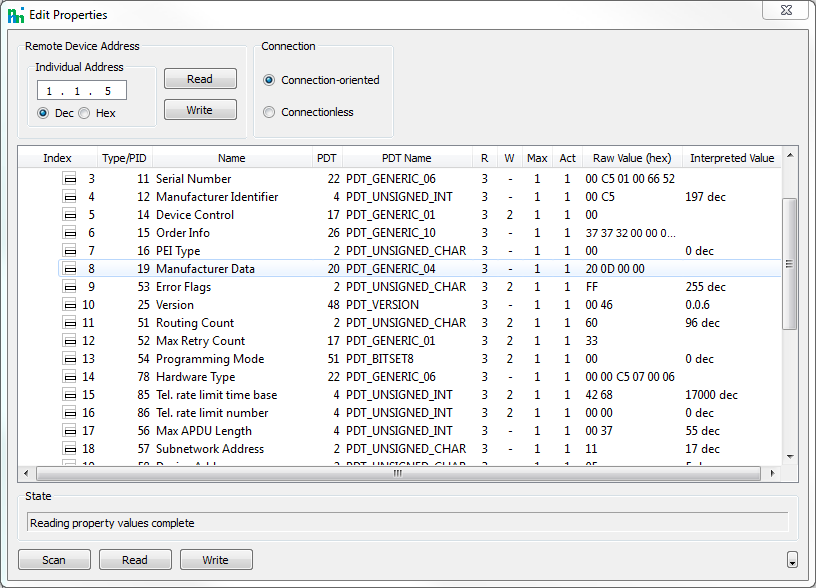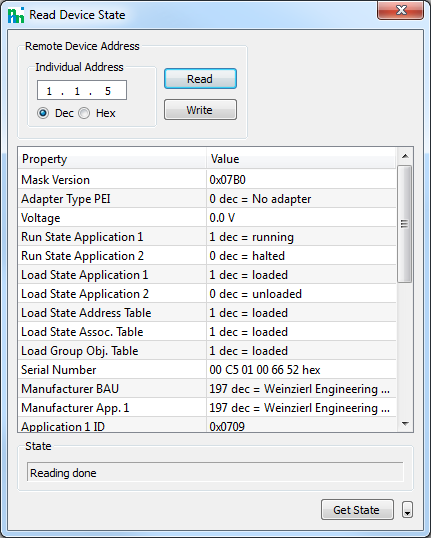 The figures show the following functions: the dialog for the reading out and for the modification of interface objects (properties) and the dialog which retrieves the status of a device.
Every device oriented dialog has on the right a Read and a Write button for the individual address of the target device: If the programming mode is activated this feature can read or write the address without exit of the dialog.
Support of
BAOS protocol
Net'n Node 5 can be connected directly with BAOS Serial Modules and BAOS IP Devices. While KNX BAOS IP Devices and KNX BAOS USB Devices can be found via a port scan, serial connections have to be configured manually as user port.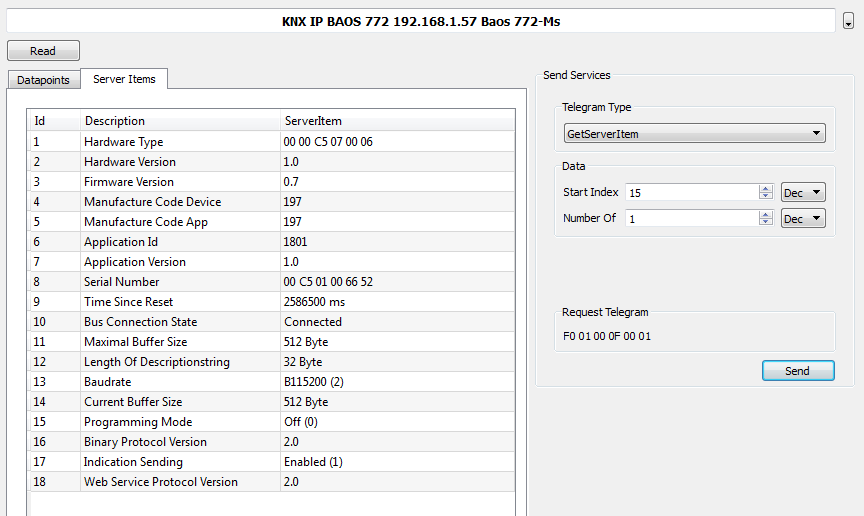 The BAOS view shows the current configurations. Dedicated send dialogs allow a convenient testing of the BAOS protocol. The telegram view tracks the complete BAOS communication even in combination with telegrams on the KNX network. A detail view is available for further interpretation of the telegrams.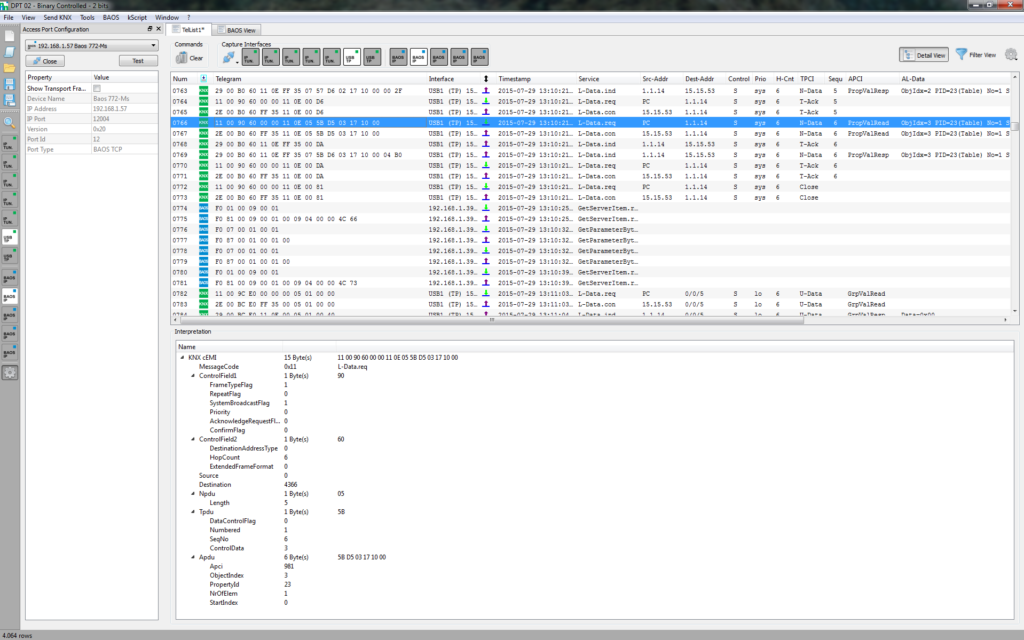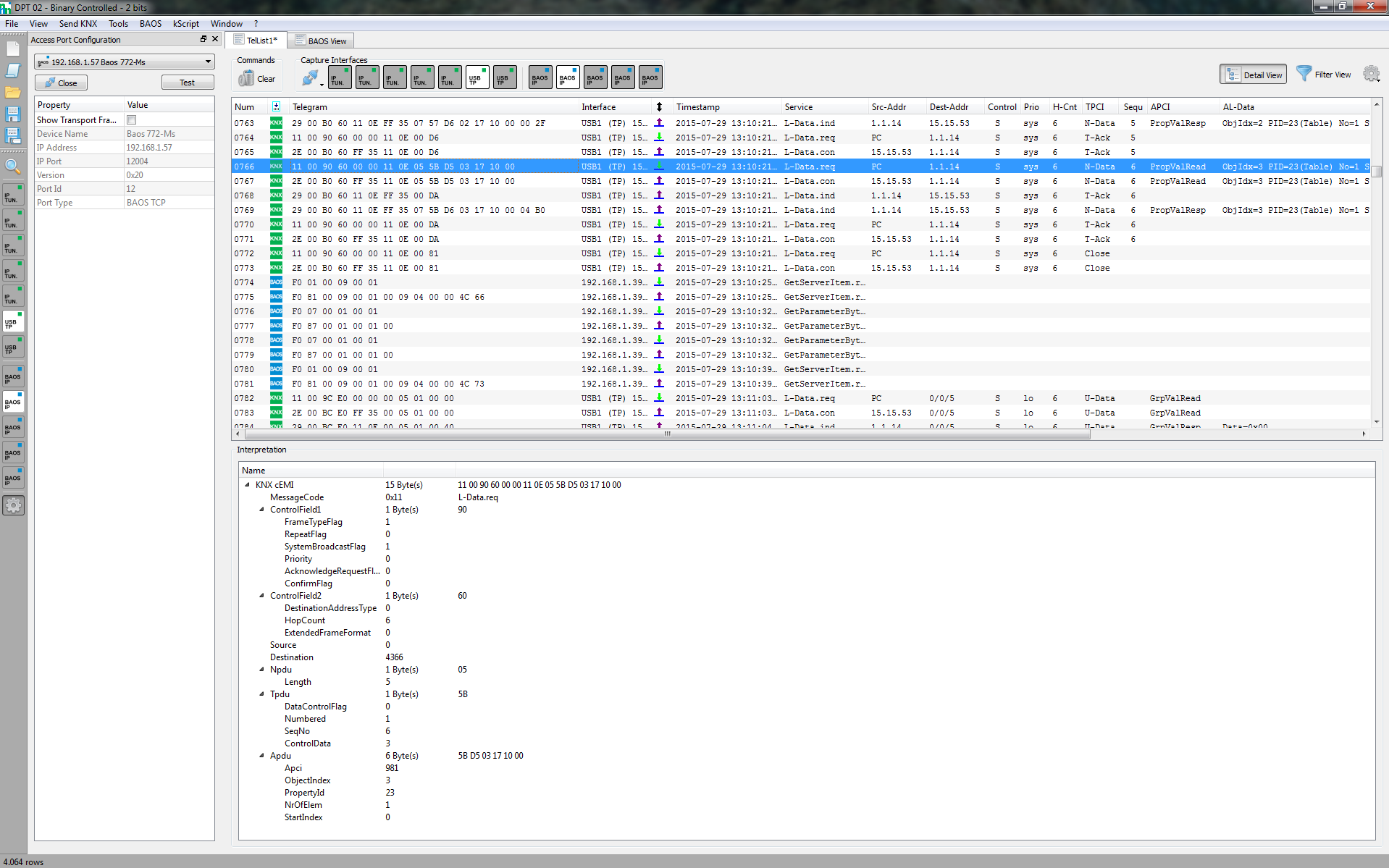 Further information
You can download the Basic Version of Net'n Node 5 for free and activate it. The professional version is part of our KNX Stack Development Solutions.