Weinzierl at the ISH 2019 in Frankfurt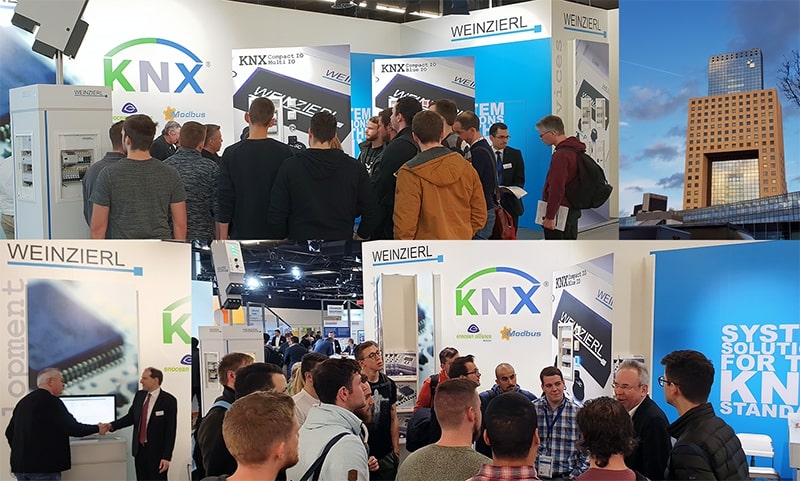 The ISH 2019 (March 11 – 15 2019) in Frankfurt is considered the largest international exhibition for water and energy. More than 2,500 exhibitors showed their novelties in the field of sanitary and heating technology to almost 200,000 visitors.
Weinzierl Engineering GmbH demonstrated new KNX devices in action at its own booth:
KNX PS 365 – Affordable and powerful 640mA power supply in a compact 4U wide enclosure.
KNX Compact IO series – binary inputs, switching outputs, blind outputs and even combi devices as well as the new dimming actuators.
KNX IO 511 secure – Compact switch actuator with one output and two binary inputs with support from KNX Data Security.
KNX Multi IO series – the universal input and output modules 570 (KNX TP) and 580 (KNX IP) are being enhanced by the two Multi IO Extensions 590 and 592 as well as further relay options.
KNX IP Interface 732 secure – Compact 1TE KNX IP interface, support of KNX IP Security, power supply via the KNX bus.
KNX IP Router 752 secure – Compact 1TE KNX IP router with extended filter table (8k), support of KNX IP Security, power supply via the KNX bus.
KNX RF Stick, coupler and push button – Wireless configuration and yet to be seen as a wired device in the ETS: KNX RF offers this.
KNX Modbus Gateway 886 – Universal gateway between Modbus RTU and KNX TP. Compact design with only 1TE.
KNX Blue IO – compact dimming actuators in new form factor and for the media KNX TP, KNX IP (with PoE) and KNX RF.
We were happy to receive the many positive responses and thank all visitors for the interesting trade fair talks. Next year, we'll see you at Light & Building 2020 – we look forward to your visit.