KNX IO 546.1 secure (1D1O)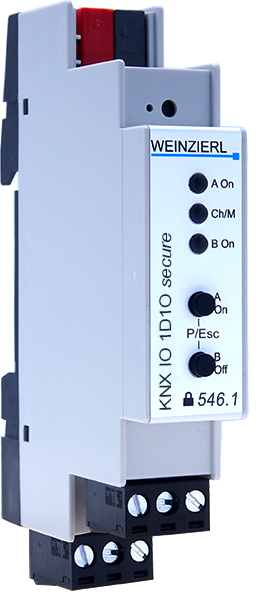 The KNX IO 546.1 secure (1D1O) is a compact combined dimming/switching actuator with 1 dimming output for active electronic ballasts with a 0/1-10V interface and 1 bi-stable relay output. The dimming actuator can be used for several active electronic ballasts e.g. for LED panels or stripes. Every configuration allows controlling the channel by switching, rel. dimming and dimming value. Several comfort functions are integrated as well, including scenes, slumber fading, staircase light and sequencer. The device optionally supports KNX Security.
The switching actuator provides the function for universal outputs including scene control, timer, staircase lighting and heating valves (PWM for thermoelectric valve drives). Two push buttons and three LEDs allow a local operation and a visualization of the device state. In addition to the output channels the device includes 16 independent functions for logic or timer control.
Art.-Nr. 5337
EAN 42 6026277 337 1
Technical data
Mechanical data
Housing: plastic
DIN rail mounted device, width: 1 modules (18 mm)
Weigth: approx 60 g
Controls and indicators
2 buttons and 3 LEDs, multicolour
KNX programming button with LED
Connectors
Connector for KNX Bus (red / black)
Pluggable screw connector (3 poles) for dimming
Pluggable screw connector (3 poles) for switching
Output channel (dimming actuator)
Dimming voltage: 0…10 V⎓ / 1…10 V⎓
Max. current: 50 mA
Output channel (switching actuator)
Relay type: 230V~/10A, bi-stable
Depending on load type (capacitive or inductive) the switching power can be reduced significantly