KNX DEKI Interface 710
The DEKI is an interface to connect a DAKS server, offered by Tetronic GmbH to the installation bus EIB/KNX. With this interface control information can be interchanged between a Siemens HiPath telecommunication system and the building automation. The link between DEKI device and DAKS server is established over a LAN interface (Ethernet / IP).
Communication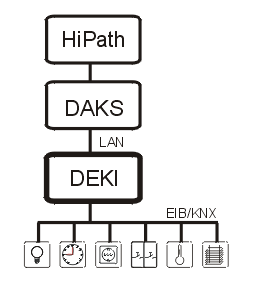 The DEKI works as a communication object server with up to 250 data points. The configuration of the DAKS-EIB/KNX interface is selected and programmed with ETS. Via the parameter dialogs e.g. the IP address of the DEKI can be set. For every of the 250 data points the type and a lable can be defined.