KNX Standard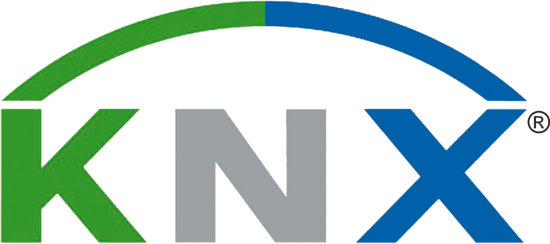 KNX is a global and open standard and remains the core of our developments. With a history of over 30 years, which we as a company have been supporting and actively participating in for over 20 years, KNX is still the gold standard in smart buildings. Whether in private or commercial construction, KNX offers a powerful system that has been specially developed for building control.
Based on the fundamental specification from the EIB times, the system has been continuously developed and expanded. Besides the classic KNX twisted pair bus, the wireless medium KNX RF is also available . In addition, KNX IP is a fully-fledged medium in KNX and is not only used for interfaces or as a fast backbone.
The strength of the KNX protocol is demonstrated not least by the introduction of KNX Security. Although it was quite a challenge to fully protect the complex KNX protocol, it was possible to develop a comprehensive solution for all media with KNX Data Security. In addition, KNX IP Security protects IP communication within the KNX system, even if the telegrams on TP or RF are not encrypted.
More information about KNX Security are available on the following page:
Weinzierl is a member
Media in the KNX System
Further standards
Devices for Installation
Weinzierl offers a comprehensive product range of KNX devices. This includes system devices, gateways as well as push-buttons and actuators.
Weinzierl products are characterized by a high level of integration in a compact design. The focus is on a user-friendly approach for both the installer and the end customer.
Here you will find an overview of our KNX devices:
Solutions for manufacturers
Weinzierl offers not only innovative devices for KNX, which are also available as OEM versions. As a system provider, we also develop our own KNX stacks as system software for KNX devices. Numerous well-known KNX manufacturers develop their applications based on our system software. To get started with KNX development, we offer KNX modules to integrate a wide range of devices into the KNX system in a fast and cost-effective way.
Our in-house development tools and KNX test laboratory are the ideal combination for KNX manufacturers.