Development Hardware
To enable a jump start into KNX development with KNX Stacks from Weinzierl we offer a modular development platform with a complete set of piggyback modules for various microcontroller families and transceivers for all supported media.
KNX Stack Development Base Board
The core of the development platform is the Base Board.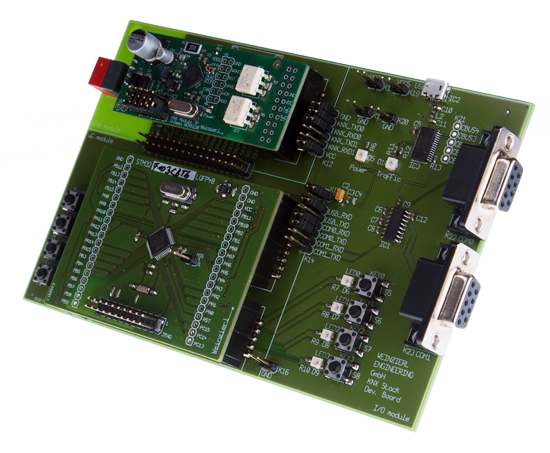 Piggyback for microcontrollers
For a maximum of flexibility the microcontroller can be plugged as piggyback on the baseboard.
Piggyback for Atmel ATmega
Piggyback for TI MSP430
Piggyback for ST STM32
Piggyback for NXP LPC1227
Piggyback for Atmel D20
Piggyback for Microchip PIC24F
Piggyback for TP Transceivers

For a connection to KNX TP Piggyback Modules are available for all KNX UART Transceivers currently on the market.
Piggyback for Elmos 981.03
Piggyback for ON Semi NCN5120
Piggyback for Siemens TP-UART
Piggyback for Siemens TP-UART2
For the support of KNX Bit Transceivers like FZE1066 please contact us directly.
Piggyback for RF Transceivers

For an easy start into radio technology dedicated RF Modules for KNX are part or our KNX Stack RF packages. The RF Modules are universal frontends and can even be used in products.
RF Modules for TI Chipcon CC1101
RF Modules for Microchip MRF89XA / Semtech SX1211
Piggyback for IP Phy

The Piggybacks for IP can be mounted on top of a microcontroller board which supports IP connection. The Piggybacks contains the Phy and the Ethernet Plug with inductors.
Piggyback for Davicon
Piggyback for Microchip