Success: First KNX Development Training Workshop
KNX has evolved to become one of the most important solutions in the field of home and building electronic systems. Despite its worldwide success, KNX and its technologies are quite complex to understand. With its first KNX Development Training Workshop in late April 2013 Weinzierl provided a compact overview of the KNX system and showed the development principles for KNX development based on certified modules or stack implementations.
The compact one day training workshops in Weinzierls office building enabled the 10 international participants to easily enter and understand the complex world of KNX development. The first part of the workshop gave an in-depth overview of the KNX system – including its history and market development. Illustrated with many examples, the second part showed the development process for KNX applications.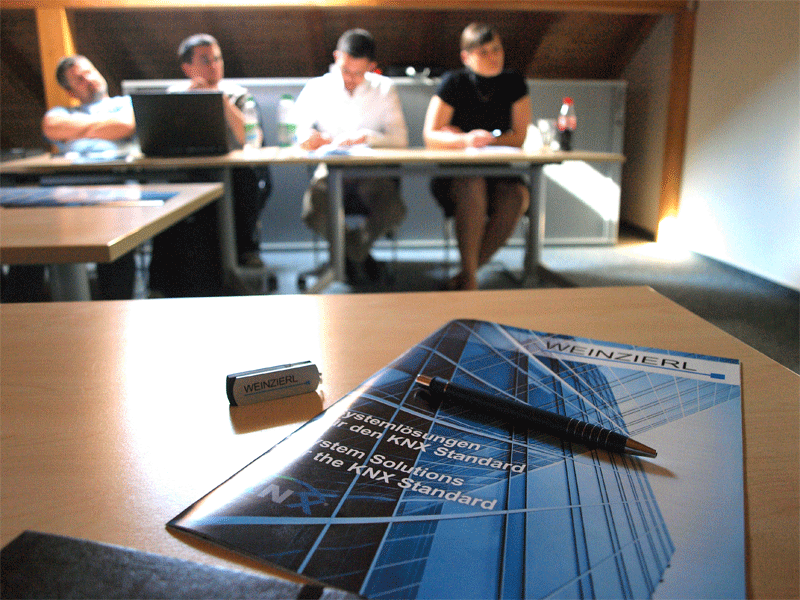 During the workshop not only the KNX media were explained but also the KNX interworking and the different configuration modes. Modules and stacks as two different options to develop KNX devices were compared in the second part of the workshop which ended with an in-depth analysis of the processes and costs of the KNX certification.
Feedback during the workshop was very positive and even the coffee and lunch breaks (plus the get-2-gether dinner the evening before) were used for vivid exchange of experience and expertise in the field of building technologies.
Weinzierl plans to conduct further KNX workshops – please stay tuned by subscribing our KNX Newsletter.