KNX USB Interface 320 Board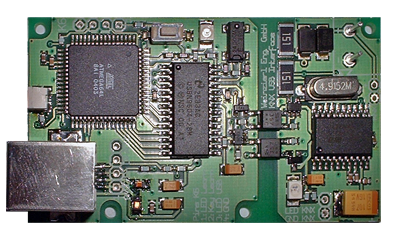 This board is used to establish a bidirectional connection between a PC and the installation bus EIB/KNX. Its functionality is identical to KNX USB Interface 310, but can be integrated into an existing system (industrial PC,..). The USB connector has a galvanic separation from the EIB/KNX bus. The circuit is compatible with KNX medium TP1 (EIB), the firmware supports protocol EMI1. All Signal-LED's and control elements can also be integrated into an edge connector.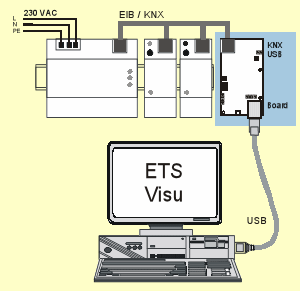 Technical data
Mechanical data
Dimensions (L x W x T) : 72 x 40 x 15mm, board 1.5mm
Installation : Must be mounted into an appropriate enclosure before connecting to USB or KNX
Power supply
The part of circuit for communication over USB is supplied by the connected PC / Laptop.
Power consumption: < 200mW
The part of circuit for communication over EIB/KNX is supplied by EIB/KNX bus.
Power consumption: < 300mW
Connectors
EIB/KNX connector
USB connector type B
Wire length max. 5m