KNX IP BAOS 777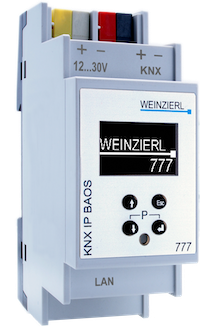 The KNX IP BAOS 777 is a powerful multifunctional device for KNX installation. It combines the following functionalities:
The KNX IP BAOS 777 is an on-site solution that is very easy to integrate with the ETS. The device does not require a cloud connection or an app. No further costs are incurred during operation.
KNX configuration is done exclusively with the ETS software – no additional software is needed. User-related settings such as email or timer functions can be set by the user in the web frontend.
Best in Class: the KNX IP BAOS 777 is a powerful residential gateway for building control with smallest size and minimal power consumption.
Visualization and control
The KNX IP BAOS 777 has an integrated web server that allows access to the visualization and device settings via a standard web browser on a PC or mobile devices such as smartphones and tablets. The web interface of the visualization allows the control of the entire KNX installation divided into the individual rooms and functions.
The configuration is done easily and consistently via the parameter dialogs of the ETS. The visualization is generated dynamically and automatically after each download via the bus or via network in the device. No additional tool or app is required.
The visualization is divided into a view for general functions of the building and the different rooms. In the rooms, different controls allow the display and operation of the configured functions. Alarms are indicated by icons in the main view.
The setting of timers or e-mail functions can be reached directly from the Visu view.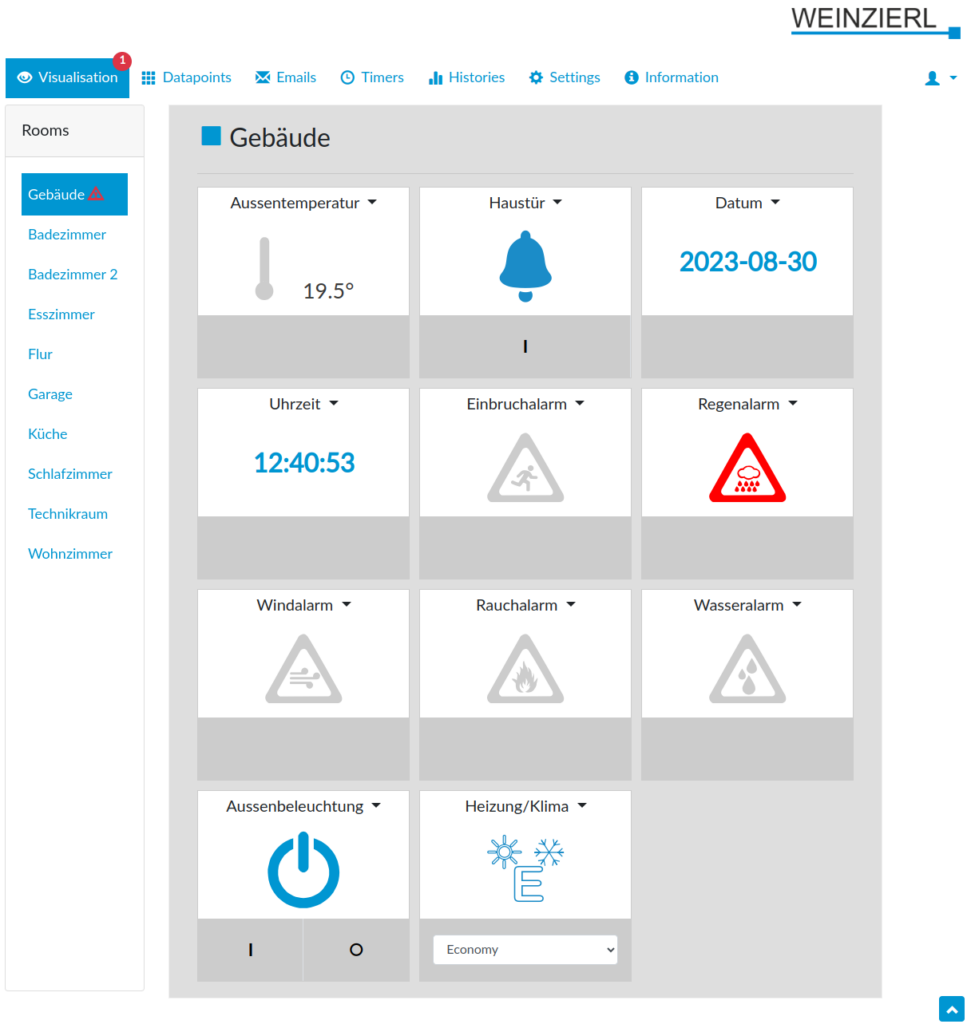 Supported functions
The data is displayed graphically in the browser and the functions can be operated directly – optimized for use on touch surfaces.
The following functions are supported:
E-mail notifications
Notifications via e-mail allow immediate information about the current status and changes in the KNX installation.
The easy to configure e-mails are sent when the value of the selected data point meets the configured condition.
The e-mail can be sent via a preset e-mail server from Weinzierl or a custom SMTP server.
New: Timer with astro function
The KNX IP BAOS 777 includes a comprehensive time switch (timer) with adjustable weekdays.
In addition to fixed switching times, the new astrotimer enables variable switching times which adapt to sunrise or sunset over the course of the year. This increases comfort, for example when controlling blinds, and reduces costs, e.g. for outdoor lighting.
Programming Interface

The KNX IP BAOS 777 can be used as an interface to the KNX bus on the telegram level. It is compatible with the KNXnet/IP specification and can be used as a bus interface for the ETS® or other programs that support KNXnet/IP tunnelling. It supports up to 8 simultaneous connections.
Technical data
Mechanical data
Housing: plastic
DIN rail mounted device, width: 2 TE
Weigth: approx 90 g
Controls
Four keys for on device settings
Indicators
OLED display
KNX programming LED
Status LEDs at the RJ45
KNX
Medium TP
Long Frame
Device Model System B
compatible with ETS 4.2 (or higher)
Max. Communication Objects: 2000 (with generic database)
Max. Group addresses: 2000
Ethernet
100BaseTX (100Mbit/s)
Supported internet protocols ARP, ICMP, IGMP, UDP/IP, TCP/IP and DHCP
KNXnet/IP Protocols: Core, Device Management, Tunneling
Max. Tunneling Connections: 8
KNX BAOS Binary Protocol V2.1
KNX BAOS Web Services (JSON)
Max. BAOS Connections: 10
Power supply
External power supply 12-30 V DC
Alternative: Power over Ethernet (PoE)
Power consumption: < 1,5 W
Connectors
KNX connector
LAN RJ-45 socket
Power supply connector