Review of the fair: Weinzierl at the light+building 2018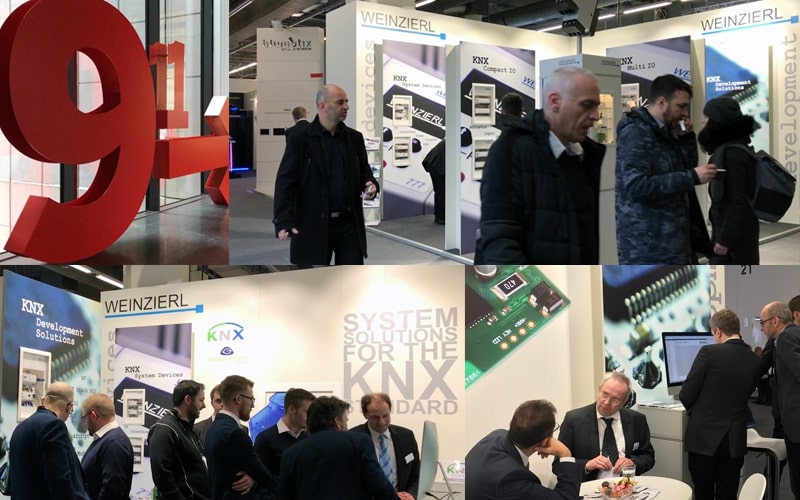 Light + Building is the world's leading trade fair for lighting, design and intelligent building technology and thus the platform for the digital revolution in buildings. For Weinzierl Engineering, Light+Building is also the most important trade fair and so the system specialist for KNX from Burgkirchen in Upper Bavaria was represented with its own stand in 2018.
The Weinzierl trade fair team always had something to do at Light+Building. The lively response and the great interest in KNX are evidence of the trend towards standardised networking in building technology. Weinzierl presented its comprehensive range of products and solutions for KNX integration and connection to EnOcean. Among other things, the following were shown
KNX Multi IO 570 and 580: 48 freely configurable inputs and outputs on 4 or 6 modules
Extension 590 and 592: Power-saving relay extensions (switch/shutter) for Multi IO
KNX Compact IO 530, 532, 534, 546 and 511 secure: New 1 module KNX IO devices for light control/dimming and security
KNX RF Push Button Insert 440 secure: Push-button insert for standard housings with particularly soft and quiet push-button action
KNX RF/TP Coupler 672: compact flush-mounted gateway for connection to KNX TP
KNX RF USB Stick 340: ultra-portable stick for convenient wireless configuration
We were pleased to receive the positive feedback and thank all visitors for the interesting discussions and the visit at the fair. We hope you had a successful stay at the fair and a pleasant journey home.