Exhibition news Light & Building 2014
Between March 30th and April 4th 2014 Light + Building – the world's biggest trade fair for lighting and intelligent buildings – was held in Frankfurt. Around 2,300 exhibitors from 161 countries showed over 210000 visitors their products for lighting, electrical engineering and house and building automation. Following the motto "KNX is complete now" Weinzierl Engineering presented its innovative products in the field of system solutions for KNX.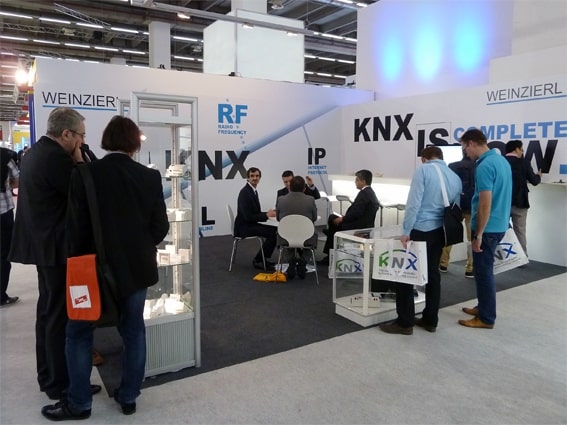 Without wire and without compromise characterizes the key innovation in the KNX system which Weinzierl showed at the Light & Building on its always well-visited booth B50 in Hall 9.0: because with the ETS5 KNX radio (KNX RF) is now fully integrated into the KNX system as a fourth medium, wireless (RF) devices can be configured on the bus the same convenient way as TP devices.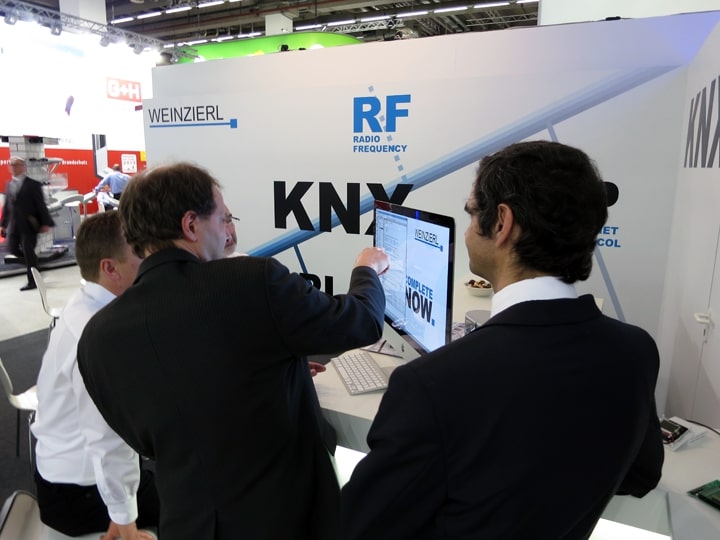 The new , advanced wireless standard in KNX has been integrated into our system software for KNX devices. With our new KNX Stack Next Generation Scalable (NGS), we have a fully certified and modular platform for the development of KNX devices for TP, IP and the extended radio standard RF. The modular design offers maximum flexibility as the powerful Core Pack based on System B (optimized for 32-bit controllers) in the versions COMPACT and PLUS can be combined with a Medium Access Pack (TP , IP, or RF). The Media Access Packs can be licensed individually or together. Modular development boards and new software tools and personal support are included as well as an individual customer training. Especially acclaimed highlight was the convenient development solution KScript that enables a simple and fast creation of KNX applications.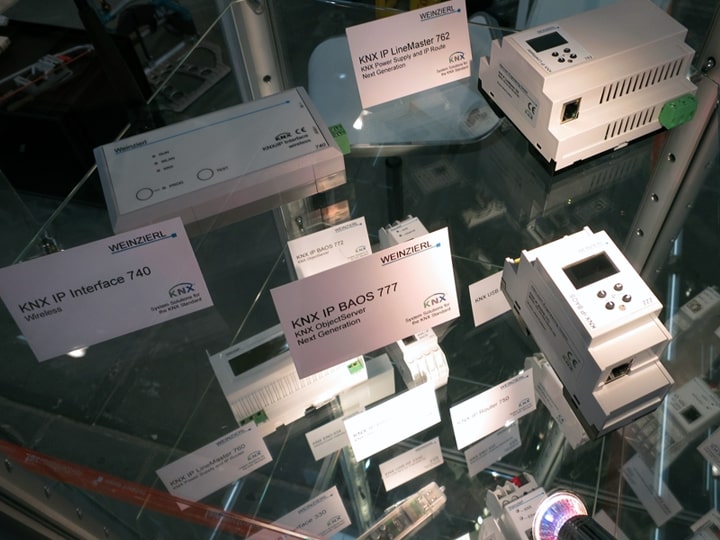 With the new KNX IP BAOS 777 we show the first unit of our completely new hardware platform for system devices: the new housing with its interfaces and connectors takes the eye as well as the OLED display on top of the device. Together with 4 buttons it allows extensive settings and diagnosis directly on the device. Since the entire platform was designed for maximum flexibility it is also ideal as a platform for individual OEM device development as well as other devices such as the coming KNX IP Linemaster 762.
As an innovative media coupler our new KNX TP/RF coupler 680 allows an uncomplicated connection of KNX RF devices to a TP installation. The coupler creates a radio line with its own domain address. The forwarding of messages is defined by the ETS through a filter table. Integrated into an elegant surface-mounted housing the KNX RF/TP coupler 680 provides numerous diagnostic options on its illuminated graphic display. The power is supplied via the bus.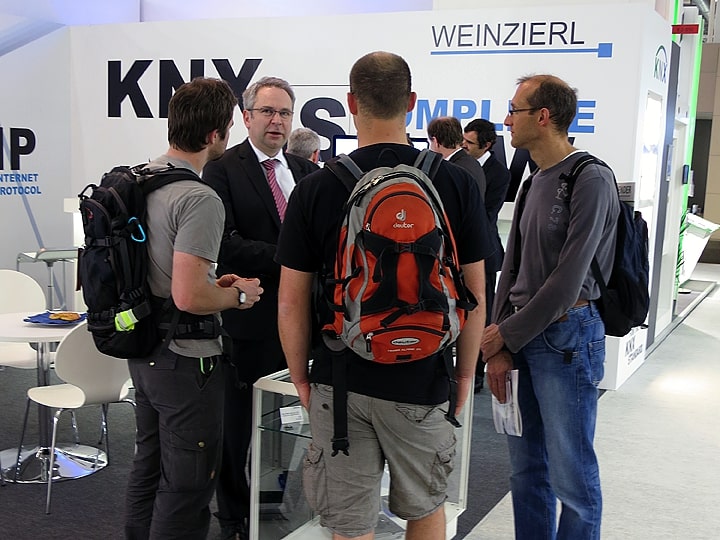 Another system unit for KNX RF is Weinzierl's KNX RF USB 2330: a new USB stick which can serve as a compact and wireless programming interface for the ETS. Our KNX RF module opens up new possibilities. Thus, we offer the KNX BAOS RF 2830 is an compact radio module with a certified KNX RF stack. It is suitable as a basis for the development of wireless KNX devices that can be configured directly with the ETS in the system mode.
With hundreds of interested visitors and a permanently well-stocked stand the show was a complete success for Weinzierl – we will see you in 2016 at the next Light + Building and next year at the ISH 2015.