The KNX IP BAOS 777 allows external access to a KNX installation as a residential gateway.
Alternatively it allows in the function as application specific gateway KNX to integrate external devices into the installation.
A generic ETS product database with a flat list of data points supports you during the development.
To facilitate the work with this database the DCA BAOS CSV Importer is available.
Residential Gateway
The KNX system is based on a special protocol that is difficult to implement for non-KNX devices. Using Weinzierl's BAOS architecture, the device maps KNX data to an IT-friendly API (Application Programming Interface). This considerably reduces the effort to connect external applications such as control systems or visualizations with KNX.
The KNX BAOS architecture allows not only access to the runtime data but also to the structure of the KNX installation. All information about rooms of a building as well as the available functions can be read out by a client as metadata. With the help of ETS, the rooms and the functions that should be available to the user are defined.
KNX IP BAOS Protokoll
available in three different versions:
KNX IP BAOS Binary: A binary protocol that is especially suitable for small microcontroller.
KNX IP BAOS Web Services: A URL-based protocol with JSON syntax compatible with KNX IP BAOS 771 and 772.
KNX IP BAOS RESTful Web Services: A URL-based protocol with RESTful JSON syntax, which can be integrated into browser-based web applications.
The device also offers time and recording functions, which are available via the BAOS protocol.
Application Specific Gateway
The KNX IP BAOS 777 can be used as an application specific gateway for connection to non-KNX systems. It can be used, for example, to integrate heating systems or audio applications with ETS integration into the KNX system. For development purposes, the generic ETS product database is available, which offers up to 2 000 data points as a flat list. The data point types can be configured individually via ETS parameters. Of course, own ETS product entries can be developed.
BAOS SDK
Both for the use of the KNX IP BAOS 777 as a residential gateway as well as for the development of application-specific solutions the BAOS protocol must be implemented in the client. For a quick and easy integration of BAOS Binary Services a free SDK is available. More information about the BAOS SDK and the free download can be found here.
Weinzierl BAOS
CSV Importer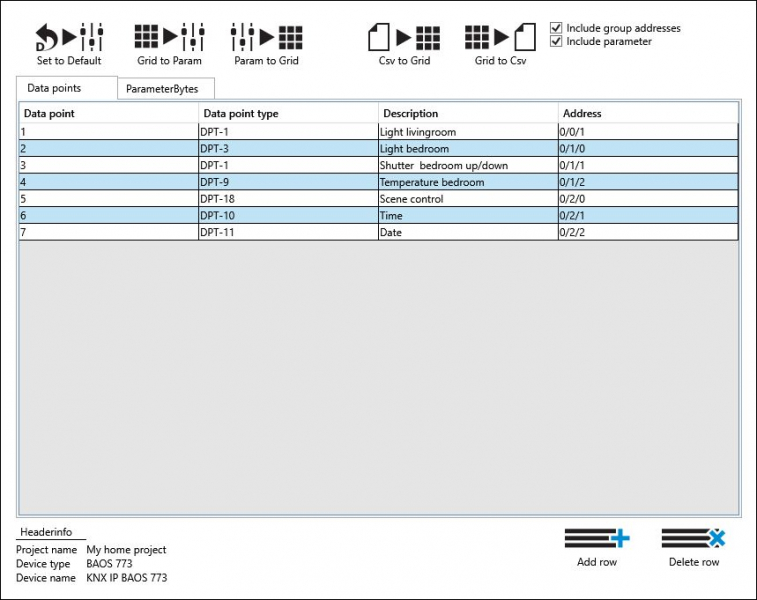 For all Weinzierl BAOS modules and devices, a generic ETS entry is available. It contains a list of all available data points. You can select a data point type and enter a name for each data point. In addition, a so-called DCA (Device Control App) is now available with the Weinzierl BAOS CSV Importer. The Weinzierl BAOS CSV Importer is available for all Weinzierl BAOS devices with a generic ETS product database and is an easy way to export the existing configuration of a generic BAOS database into a CSV file and import it into another project. Thus, a tedious configuration by hand is spared.
The Weinzierl BAOS CSV Importer is available as a free download in the online store of the KNX Association under Shop / ETS-Apps (Creating a user account is necessary). After adding to the shopping cart and check-out you will receive the download link for the Weinzierl BAOS CSV Importer within "My account / Products". You can also download the Weinzierl BAOS CSV Importer here.
Installation instructions and usage documentation are also available here.
Please note: the Weinzierl BAOS CSV Importer requires a commercial license of ETS 5.5 or higher.